Over the years I have closely observed the creatures that populate our mass transit and discovered certain pervasive archetypes that consistently amuse or annoy. If you belong to any in this set, please change your behavior. In response to some excellent suggestions check out our latest addition: The Transient.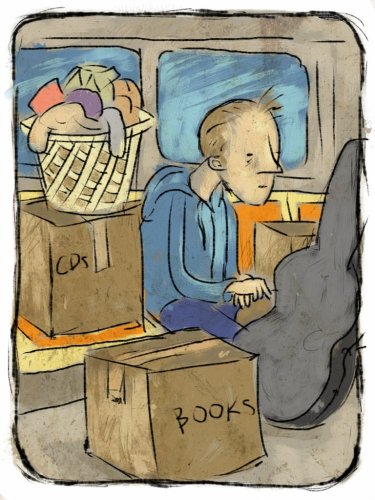 The Transient
This unfortunate soul either has no money, no friends, or no friend willing to move his sorry ass after getting dumped for the 11th time. He is now a burden to the unfortunate passengers who have to share the car with the entirety of his sad belongings. If anything, this creature inspires waves of personal gratitude…at least you're not that guy.
The Gatekeeper
This is the troll who insists on being right at the door regardless of the fact that they don't get off for another 22 stops, and manage to compound their assholery by shooting dirty looks at people squeezing past them. Even more excruciating, they will be the slowest person to exit the train when their stop finally arrives.
The Lost Souls
A clutch of nervous looking folk dressed like oversized toddlers (in XXXL untucked NYC tshirts) speaking loudly in their red state dialect of choice. Easily frightened, they could have avoided exposure to the liberal horrors of the subway had they not been more scared of Arab cab drivers. Unbeknownst to them, the pale, tattooed hipster boy they are trying to move away from was born in the same state.
The Airy Balls
These are the men who, inexplicably, have to straddle two seats with their legs widely spread in order to ventilate their apparently massive genitalia. So cumbersome and crippling are their pendulous balls that they almost justify their use of the handicapped seats. Any attempt to make use of the adjacent seats is typically met with a glare or grunt, as they suffer greatly.
Superglue
A couple that is seemingly molecularly bonded at the hands. Unable to part for a moment lest their love be instantly dissolved, they walk up and down stairs, pass into and out of trains, and move through subway corridors as an impenetrable wall. Causing them to break hands will result in the most blistering of over the shoulders stares, possibly ruining their relationship forever.
The Middle Roaders
These are people who, for some unbeknownst phobia, cannot walk up or down stairs along the handrail. The position themselves perfectly centered on the stairs and slowly make their way from stair to stair, clogging the 2-way passageway. Worse yet, the perpetrator often is so wide that attempting to circumvent their girth would only send them tumbling to their death. One would think that if you were that slow/fragile/unbalanced, that you would want to clasp a railing all the way down? Are you learning to use stairs for the first time?
The Waddling Dead
These are the painfully slow, meandering people who exit the train, walk through the station or between train cars at a pace so slow one would expect a glistening trail of mucous in their wake. Like zombies, these dead eyed sloths don't seem to have direction, much less momentum, yet will somehow anticipate your every attempt to pass. Not to be mistaken for actual zombies, please do not shoot them in the head.
The Leaning Telepaths
Without the psychic energy of these people, the NY subway system would grind to a halt. They singlehandedly draw the trains into the station using only the power of their intense glares and craned necks. You might spot several of these on a platform at once, focusing their gaze on the tunnel despite a brightly illuminated sign system that clearly tells them when the next train is arriving. Note to these gifted creatures: a watched pot never boils.
The Benevolent Grandparent
This is the very wrinkled, seemingly innocent looking elderly person who is staring at you right now. They have been staring at you now for 6 stops. You probably remind them of their first love, their dead wife, or their most prized victim buried in the basement. They will not stop staring even if you look directly at them, which you've already tried once and felt like your life force was being drained from your very eyes.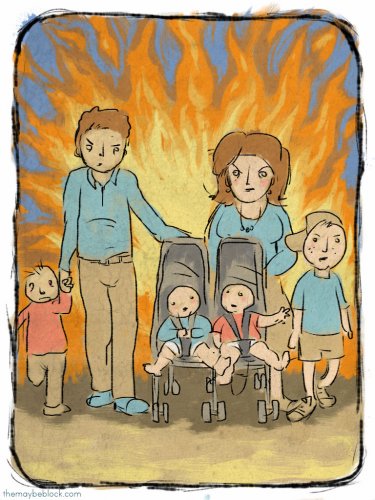 The Family Barricade
Similar to the Superglue Couple, but usually involving a double stroller, a couple, and 2 aimless, ugly children stumbling about. They move in a consistent single line, with the parents usually talking or fussing with the kids, paying little attention to their path. Woe be unto those who find themselves behind this blockade, particularly when attempting to go down stairs. These barricades will often decide, based on the urgency of your passing, that this would be a great moment to teach the toddler how to walk. Or to stop and adjust the ridiculously massive stroller. Or to scold the child they are trying to walk down 2 flights of stairs while carrying the stroller simultaneously. Is that your train you hear pulling up below? Sorry, but the results of their careless, unprotected intercourse takes priority.
The Angry Business Man
This man went to a top university, joined the right fraternity, kissed the right ass, and pushed all the seemingly right buttons in his douchey repertoire, and yet is still relegated to the subway system. Obviously too good for public transport, his countenance is one of seething hatred for all the humanity that surrounds him. One day he will have a driver and never have to subject himself to such humiliation. He will show you. He will show ALL of you.